►GLORY & PRAISE WITH THANKSGIVING

MUSIC STYLE: Contemporary

TEXT: Praise, Thanksgiving, Peace, Jesus, Lord, Commitment

COMPOSER: Gary Lanier

ABOUT THE SONG:

PSALM 69: 30 & 31 says...

I will praise the name of God with song, And shall magnify Him with thanksgiving.
And it will please the Lord better than an ox Or a young bull with horns and hoofs.

GLORY AND PRAISE WITH THANKSGIVING says... Lord, You are my redeeming treasure! Because of this great treasure, freely given, I will praise Your Name in song! The chorus rings out with true praise! Take a few moments to listen the the Live Worship demo, then download the sheet music, which includes a LEAD SHEET & HYMN SHEET, and make as many copies as you need! EXCELLENT WORSHIP CHORUS for the THANKSGIVING SEASON!

LIVE WORSHIP DEMO ►LISTEN Click for Immediate Listen.
FREE LIVE WORSHIP DEMO ►DOWNLOAD Click to listen (may take a
few minutes to download) or Right Click & "Save Target As" to a file of your choice.

►FREE SING-A-LONG WORSHIP VIDEO ►DOWNLOAD
Excellent for small groups or full congregations!

PRINT FREE SHEET MUSIC!
LEAD SHEET ►DOWNLOAD
HYMN SHEET ►DOWNLOAD
Sheet Music includes an UNLIMITED COPY LICENSE.
Report use of all eMusicForWorship songs to CCLI.
| | | |
| --- | --- | --- |
| Report use of all songs to | | |
---
Over 40 Years of Christian Music Publishing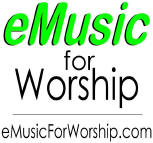 SHARING WORSHIP eMUSIC WITH THE WORLD.
In Cooperation with

THE LANIER COMPANY
SHARING WORSHIP PRINT MUSIC WITH THE WORLD.
Distribution and Administration for:
HOUSE OF LANIER PUBLISHING
CATHEDRAL CHORAL PRESS
PRAISE & WORSHIP PUBLISHING
CHURCH MUSIC PRESS
LL PUBLISHING
GOFORTH MUSIC PUBLISHING
POWER PRAISE HAWAII PUBLISHING
SETH RECORDS
CROSS STRINGS RECORDS
In Association with:
ASCAP - American Society of Composers, Authors & Publishers
BMI - Broadcast Music Incorporated
CCLI - Christian Copyright Licensing International
eMusic for Worship . music@emusicforworship.com