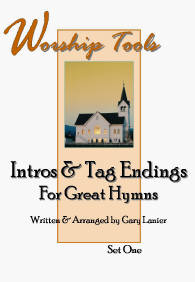 ►INTROS & TAG ENDINGS, Set One
MUSIC STYLE: Standard Hymns, various music styles
ARRANGER: Gary Lanier
VOICING: SATB
CHORAL DEMO with Gary Lanier ►LISTEN
Click to listen (may take a few minutes to download) or Right Click &
"Save Target As" to a file of your choice.
CHORAL SHEET MUSIC REVIEW: I AM RESOLVED ►REVIEW
ABOUT INTROS & TAG ENDINGS:
This collection of 20 Intros & Tag Endings was created as choral worship "extras". As an example, if the hymn O Worship the King was to be the opening hymn for the worship service, the choir would jubilantly sing the Intro to that hymn as a refreshing surprise to everyone. Then, when the last measure of the hymn is sung, the worship leader turns to the choir and adds the extra Tag Ending.
Another way you can use these Intros and Tag Endings is in a hymn medley. The choir could sing the Intro to the hymn, I Am Resolved, sing a verse or two, then go directly into, There is Power In The Blood. After the final verse, the choir sings the Tag Ending written for There is Power In The Blood. This will create a wonderful atmosphere for a powerful message, offering, testimony, invitation or more praise and worship.
CONTENTS, INTROS & TAG ENDINGS, SET ONE:
1. All Hail The Power
2. Amazing Grace
3. Are You Washed in the Blood
4. At Calvary
5. Come Thou Almighty King
6. He Keeps Me Singing
7. He Lives
8. Higher Ground
9. How Firm a Foundation
10. I Am Resolved
11. Jesus Paid It All
12. Low in the Grave He Lay
13. O Worship the King
14. Rejoice Ye Pure in Heart
15. Revive Us Again
16. Send the Light
17. Since Jesus Came Into My Heart
18. Standing on the Promises
19. There Is Power in the Blood
20. When We All Get to Heaven
TO DOWNLOAD AFTER PURCHASE...
Click the "RETURN TO The Lanier Company" link
on the final PayPal transaction page.
This will take you to Choral eMusic Pak download page.
| | | |
| --- | --- | --- |
| Report use of all songs to | | |
---
Over 40 Years of Christian Music Publishing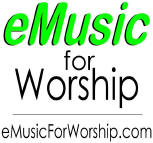 SHARING WORSHIP eMUSIC WITH THE WORLD.
In Cooperation with

THE LANIER COMPANY
SHARING WORSHIP PRINT MUSIC WITH THE WORLD.
Distribution and Administration for:
HOUSE OF LANIER PUBLISHING
CATHEDRAL CHORAL PRESS
PRAISE & WORSHIP PUBLISHING
CHURCH MUSIC PRESS
LL PUBLISHING
GOFORTH MUSIC PUBLISHING
POWER PRAISE HAWAII PUBLISHING
SETH RECORDS
CROSS STRINGS RECORDS
In Association with:
ASCAP - American Society of Composers, Authors & Publishers
BMI - Broadcast Music Incorporated
CCLI - Christian Copyright Licensing International
eMusic for Worship . music@emusicforworship.com