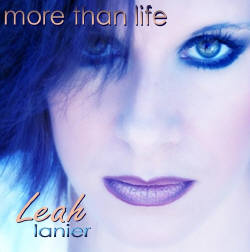 MUSIC STYLE: Inspirational
ABOUT THE ALBUM:
From Leah:
My Lord and Savior, I love praising you! Thank you to my daughter, Anna, you are my treasure; my mom and dad, my greatest supporters; Brad, my true friend and the most wonderful father to our Anna!
I pray all who hear this music will experience the unconditional love of our Heavenly Father!
Blessings and joy, Leah Phil.1:6
ALBUM CREDITS:
Produced & Arranged by: Jeff Nelson
String Arrangements: Gary Lanier
Engineered by:
Steve Dady/Sunset Blvd. Studios, Franklin, TN
Jeff Nelson/The Dolphin Room, Franklin, TN
Mastered by: Erik Wolf/Wolf Mastering, Nashville, TN
Musicians:
Piano/Keyboards: Jason Webb, Jeff Nelson
Guitars: David Cleveland
Bass: Gary Lunn
Drums/Percussion: Steve Brewster
Strings:
David Angell
Monisa Angell
David Davidson
Anthony LaMarchina
Pam Six Fin
Background Vocals:
Michael Mellett
Lisa Bevill
Photography: Traci Brumley
Cover Design: Valleta Lanier
▼ LISTEN & PURCHASE SINGLE MP3s SHIPPED VIA EMAIL! ▼
*Words & Music by:

IMPORTANT! PURCHASING A DOWNLOADABLE PRODUCT:
After purchase there will NOT be a download link on your final CCNOW check out page.
You will receive a SEPARATE email from eMUSIC FOR WORSHIP with your
purchased downloadable products and/or links to download web page(s).

Report use of all songs to
CHRISTIAN COPYRIGHT LICENSING INTL

BROKEN BOW, OK