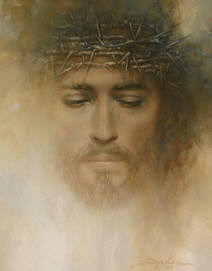 MUSIC STYLE: Worship
TEXT: Jesus, Redeemer, Worship, Adoration
COMPOSER: Gary Lanier
ABOUT THE SONG:
A beautiful worship song about Jesus, the Lord of Love. He is the great
Redeemer and worthy of our praise, worship and adoration. That is the
theme of this worship song.
Take a few moments to listen to the Demo, then download the sheet music and make as many copies as you need! A choral arrangement is also available
and can be reviewed through the new video review.
FREE DEMO ►LISTEN & DOWNLOAD Click to listen (may take
few minutes to download) or Right Click & "Save Target As" to a file of your choice.

PRINT FREE SHEET MUSIC!
LEAD SHEET ►DOWNLOAD
Sheet Music includes an UNLIMITED COPY LICENSE.
Report use of all eMusicForWorship songs to CCLI.
►THE CHORAL VIDEO REVIEW | ARRANGED BY GARY LANIER
Click the video below to review choral sheet music & audio at the same time!
We recommend that you use Windows Internet Explorer as your web browser to view this page.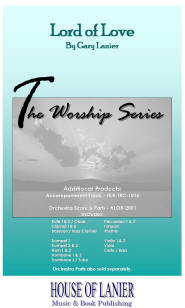 LORD OF LOVE
Choral eMusic $19.95 BUY SHIPPED VIA EMAIL!
Includes: CHORAL/ACCOMPANIMENT SCORE, CHORAL PARTS,
UNLIMITED COPY LICENSE, & COVER ART

LORD OF LOVE
MP3 Accompaniment Track $6.95 BUY SHIPPED VIA EMAIL!
For Choral Arrangement or Soloist.

DOWNLOADABLE PRODUCT INFO:
IF YOU ARE PURCHASING A PRODUCT:
After purchase you will receive an email from eMUSIC FOR WORSHIP
that includes files of your purchased eMusic product. There will NOT be
a download link on your final purchase page. You will receive a SEPARATE
email from eMUSIC FOR WORSHIP with your downloadable purchased products.
| | | |
| --- | --- | --- |
| Report use of all songs to | | |
---
Over 40 Years of Christian Music Publishing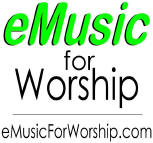 SHARING WORSHIP eMUSIC WITH THE WORLD.
In Cooperation with

THE LANIER COMPANY
SHARING WORSHIP PRINT MUSIC WITH THE WORLD.
Distribution and Administration for:
HOUSE OF LANIER PUBLISHING
CATHEDRAL CHORAL PRESS
PRAISE & WORSHIP PUBLISHING
CHURCH MUSIC PRESS
LL PUBLISHING
GOFORTH MUSIC PUBLISHING
POWER PRAISE HAWAII PUBLISHING
SETH RECORDS
CROSS STRINGS RECORDS
In Association with:
ASCAP - American Society of Composers, Authors & Publishers
BMI - Broadcast Music Incorporated
CCLI - Christian Copyright Licensing International
eMusic for Worship . music@emusicforworship.com